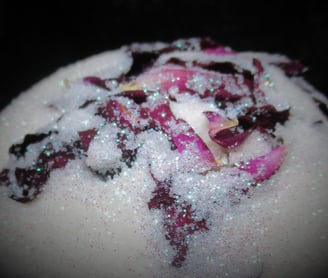 How do I get the most from my bath bomb?
I recommend that you fill the tub half-way, pop in the bomb and let it do its thing. Then run the water really hard to fill the tub, to get the most creamy foam. And, once the foam has subsided, try running a little more water into the bath (again, pinch the tap), you should get even more foam to enjoy.
Please do take care when you leave the tub, just in case there's a little residue from the oils and butters and we recommend that you don't leave the water sitting in the bathtub. Drain it and give it a rinse and you'll be ready for another relaxing soak!
Are your bath bombs okay for kids?
Yes - although we don't recommend them for children under two years, due to their hyper sensitive skin. Check out our KidStuff page for smaller bombs and novelty products.
What about the colours in the bath bombs, will they stain me or my tub?
The colours that I use are high-quality micas and colourants that are designed to be used in bath bombs, along with an ingredient that helps the colour to slip away from the surface of the tub. I've trialed my bath bombs on many different surfaces with no issues, but please note that I can't provide an absolute guarantee. It will be fine, though, if you enjoy holding the bath bomb while it dissolves. Any colour that might transfer to your hands will wash straight off.
Tips & tricks - Drain the bath water immediately after you leave the tub and give the tub a rinse to remove any residue. Bath bombs should be left in the water, not on the side of the tub and if any spot of colour does remain after draining the tub, please rinse it off immediately.
The product that I want isn't on your website or is out of stock...
I'm sorry - my operation is very small, sometimes life or the supply chain gets in the way of re-stocking the website, or I haven't yet added that product. If there's a particular bath bomb or body product from my range that you would like please get in touch, I can usually supply within a week of your order, a little outside my usual timeline.
What about your impact on the environment?
I am mindful of the packaging I use. I use soft plastic recyclable polyolefin to package the bath bombs for your and their protection. Other products are packaged in reusable, recyclable or compostable materials whenever possible and I often use recycled packing when we send your parcels. The ingredients that I use are biodegradeable, paraben and phthalate free.
Return / Refill Discount
I also offer a return / refill / discount service on my containers. If you are local and have an opportunity to visit one of the markets where I sell product face-to-face please feel free to return any of my pots or jars in clean, undamaged condition - I will give a discount on any purchase made. I've made a conscious decision to encourage re-use, rather than recycling, due to the precarious recycling system that we currently have and would prefer to sanitise and re-use packaging, rather than discarding or recycling.